Has the spirit of adventure gripped you and you are planning your next trip to Sumatra? Then you will have asked yourself the question, how do I move fastest from A to B to get as much of my holiday as possible? Do you want to be independent and flexible on your round trip through Sumatra?
To travel unprepared to Indonesia without being familiar with the local situation can quickly end up in an accident with a rental car in Sumatra. The traffic situation, especially in Southeast Asian countries, is rather irregular and requires special driving skills, which Westerners can usually only assess after several months of observation and practice.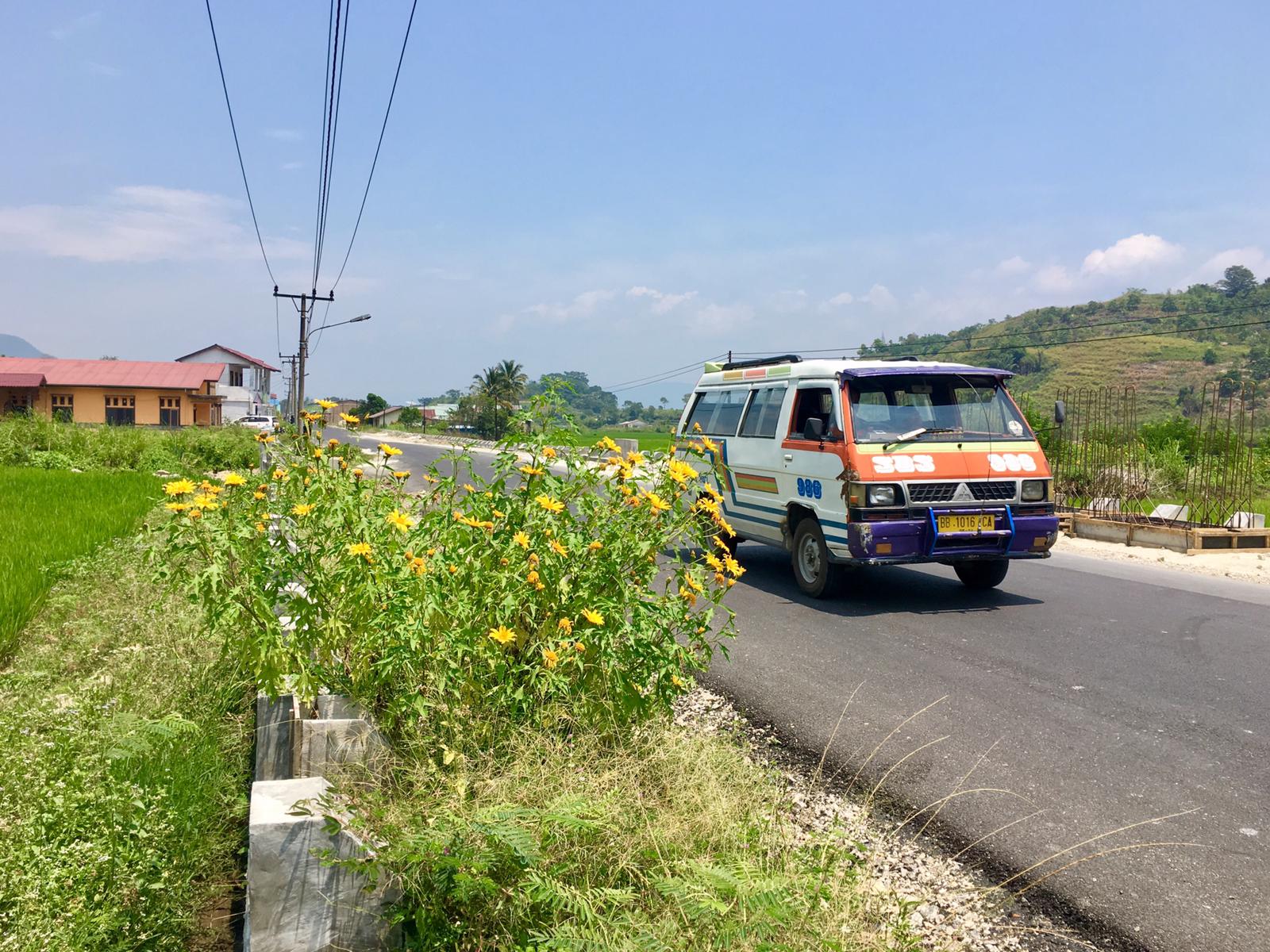 With a rental car through the crazy road traffic on Sumatra
Road traffic can be most clearly compared with the movements of a shoal of fish. The speed of road traffic is therefore reduced. The absolute maximum speed is 80 kilometres per hour. In urban areas or on busy roads, the maximum speed is 30 to 40 kilometres per hour. Many people in Indonesia do not have a driving licence. Since public transport is not very well developed, even 12-year-olds drive to school on a scooter, which is not yet able to correctly assess many traffic situations. Furthermore driving is on the left hand side, which not many tourists are used to, and many roads on Sumatra are in bad condition making it hard to drive.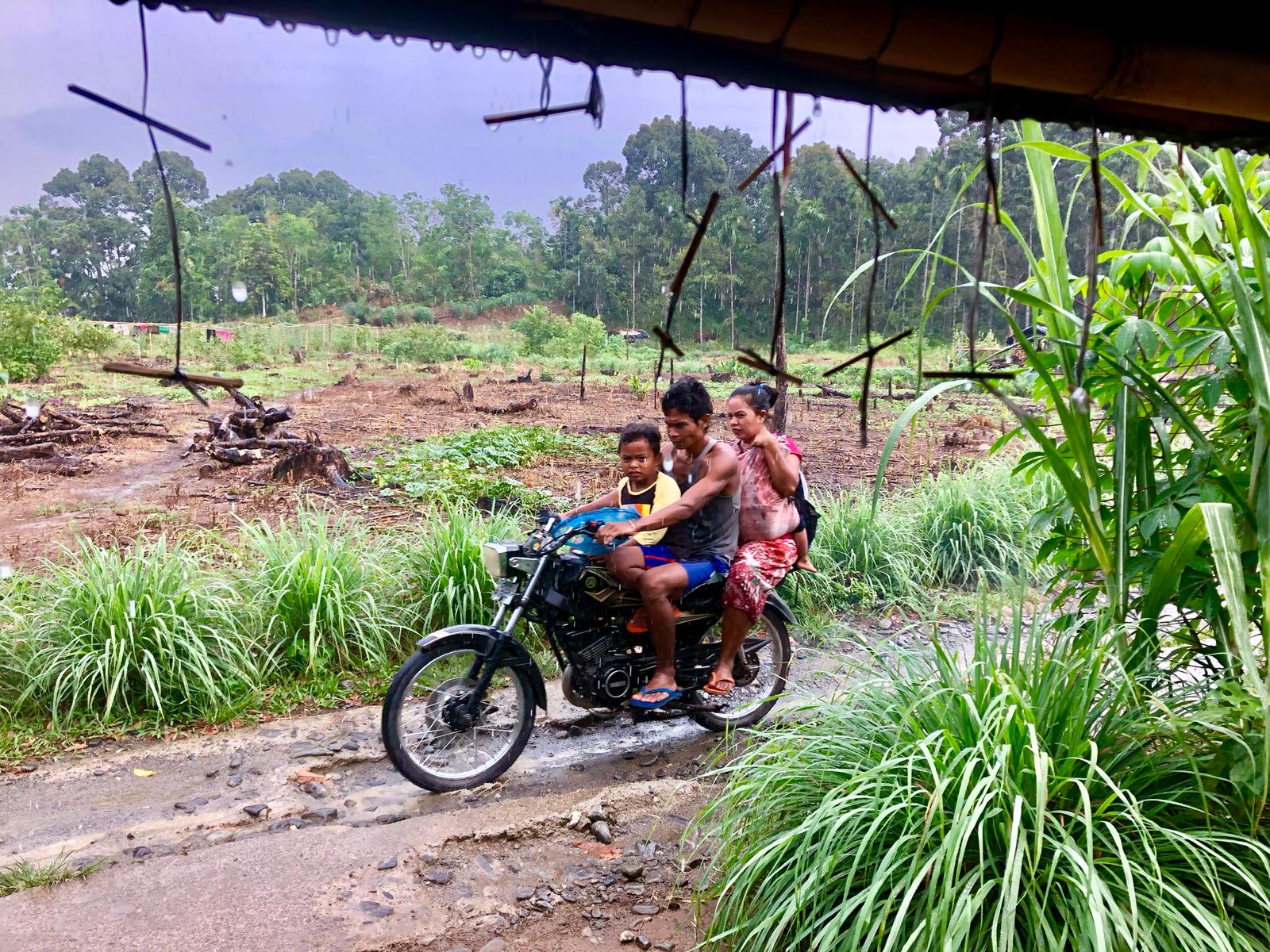 For financial and practical reasons, the motorbike is the number one means of transport for Indonesians. All kinds of daring balancing tricks are performed on it. Water gallons, gas bottles, chickens, bales of hay, sickles, furniture and every imaginable means of everyday life are transported on the scooter. Or a whole family can sit on it – 2 adults, 3 children no problem. So if you are thinking about renting a car in Sumatra, you should have the opportunity to familiarize yourself with the traffic situation for a long time beforehand. A private driver in Sumatra is rather recommendable here.
Alternative means of transport on Sumatra
Although there is a privately organized public transport by minibuses, it is provided by the Indonesian speaking population. This means that without a good knowledge of Indonesian you will not get far, as you will have to negotiate for your trip. Often a higher price is demanded from foreigners. Apart from that Indonesians are very helpful towards foreign tourists.
Read also: How to get around Sumatra
Journey times, stops, driving style differ depending on the bus driver. Often you have to put up with longer waiting times, because the bus drivers wait until the minibus is full of passengers. The fuller the bus, the higher the pay for the bus driver. Legroom does not play a role here. Popular with Indonesians is also entertainment by subwoofers mounted in the minibus, which let deafening pop music sound.
Beside the local traffic there are long-distance buses, which connect bigger cities and tourist hotspots in Sumatra like Medan, Padang, Berastagi, Lake Toba with the island Samosir, Palembang and many more. They are offered by bus companies with a higher fare. The bus drivers are often very tense on the winding mountain tracks and often smoke while driving in the bus. One or two landslides on overland journeys can also stall traffic for hours.
Recommendation: Rental car with private driver
All transport options mentioned so far not only have risks, but also cost a lot of time and nerves. For tourists it is common practice to hire a private driver in Sumatra. They often provide a 4WD. Although this has a higher price, which is still comparatively cheap compared to European countries, it is reliable, safe and flexible. You can have lunch breaks and photo stops in between. Especially for couple, groups or families the mode of transport is great, as the costs can be easily shared.
The drivers are familiar with the local traffic situation and speak at least a few phrases in English. For example, you can be picked up at the airport in Medan and chauffeured to your guesthouse in Bukit Lawang at the jungle in Leuser National Park for 45 euros. There you can use your time to plan a jungle trekking with a guide.