Jungle Trekking in Bukit Lawang on Sumatra is a unique experience. You may see orang utans in their natural environment, as well as monitor lizards, gibbons, snakes or tucans. There are different treks for all fitness levels, starting from a short 3 hour trek up to a more adventurous 3 day trek including overnight stays in the jungle.Many people are scared or don't really know what to expect on a jungle trek in the rainforest of Sumatra. And we get that. Trekking in the Gunung Leuser National Park is not comparable to a casual hike in the forest back home. So we created this overview to answer the most common questions. And if you are still worried or have further questions, please contact us.
This guides contains
History of jungle trekking in Bukit Lawang
In 1973 two zoologists from Switzerland established an orangutan rehabilitation centre in Bukit Lawang. It sounds crazy, but orangutans were (and sometimes still are) held as pets throughout Indonesia, and the centre was founded to to reintroduce them to the jungles. It was funded by the WWF and Frankfurt Zoological Society.The centre was built a couple of kilometres away from Bohorok to minimise human contact. The rangers taught the orangutan all the essential skills to survive in the wild. After some time of quarantine, refamiliarisation to the rainforest as well as reintegration to the (semi-)wild orangutan population, the animals were released back into the wild. The ability to see orangutans up close brought local as well as international tourists to Bukit Lawang.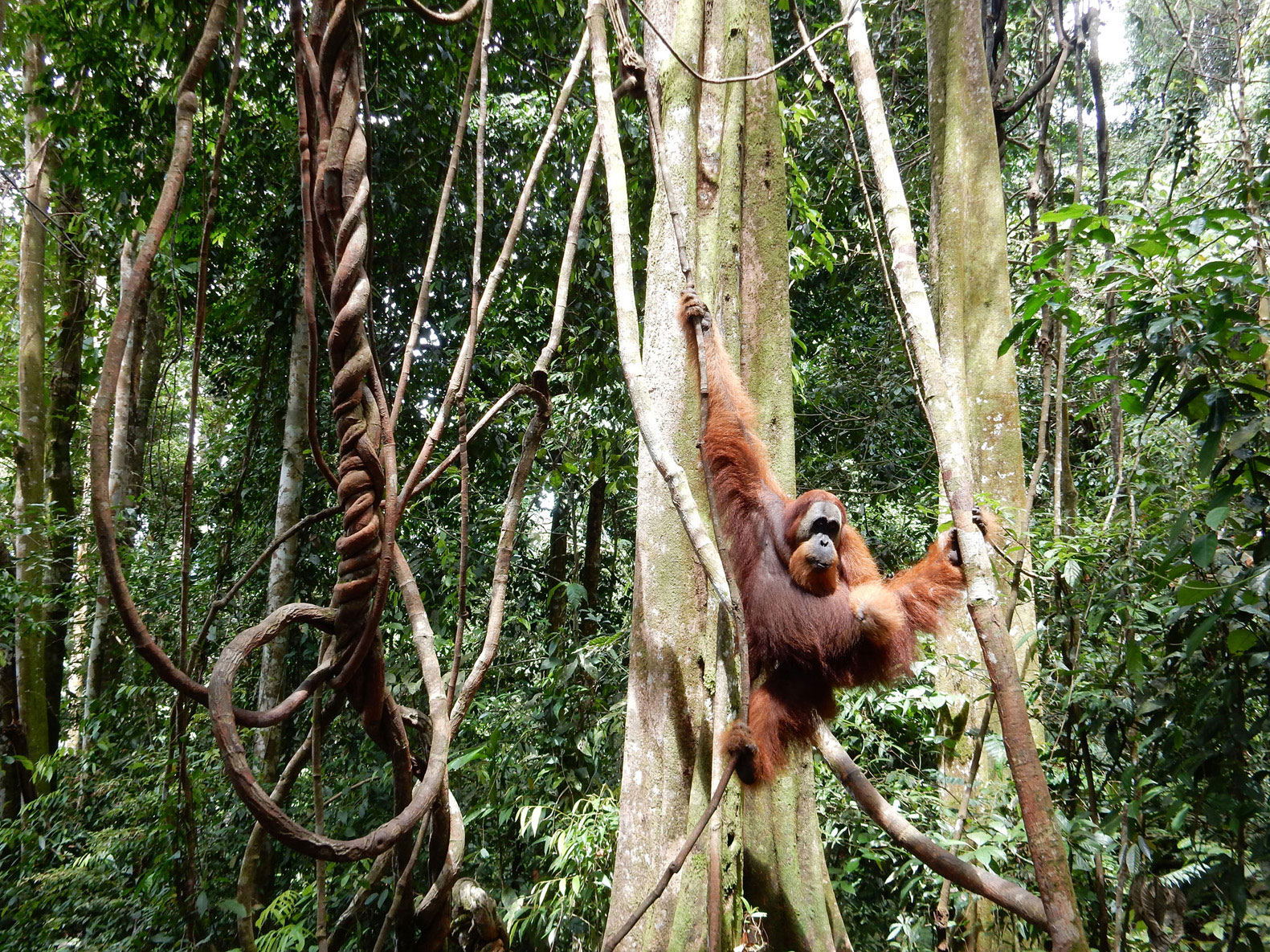 In addition to the rehabilitation centre, the first jungle trekkings for tourists were carried out in the late 1980s. At that time it must have been a real adventure. Since the beginning of the 90s there is the ITGA-HPI, the Indonesian Tourist Guides Association. All guides who want to lead tourists into the jungle have to pass an exam. All our guides are licensed by the ITGA-HPI, speak very good English, have been trained accordingly and had to pass an exam.
The centre has been closed in 2002 as it was not suitable anymore for the animal welfare. All orangutans of the center have been slowly released to the jungle. That's why you can still see some semi-wild orangutans while jungle trekking in Bukit Lawang. These semi-wild orangutans are used to humans and sometimes they want to touch you. If that happens, stay calm and follow the instructions of your guides.
For some years now there are the prebuilt campsites in the jungle for guests who opt for the exciting overnight stay. That makes the trekking a little more convenient.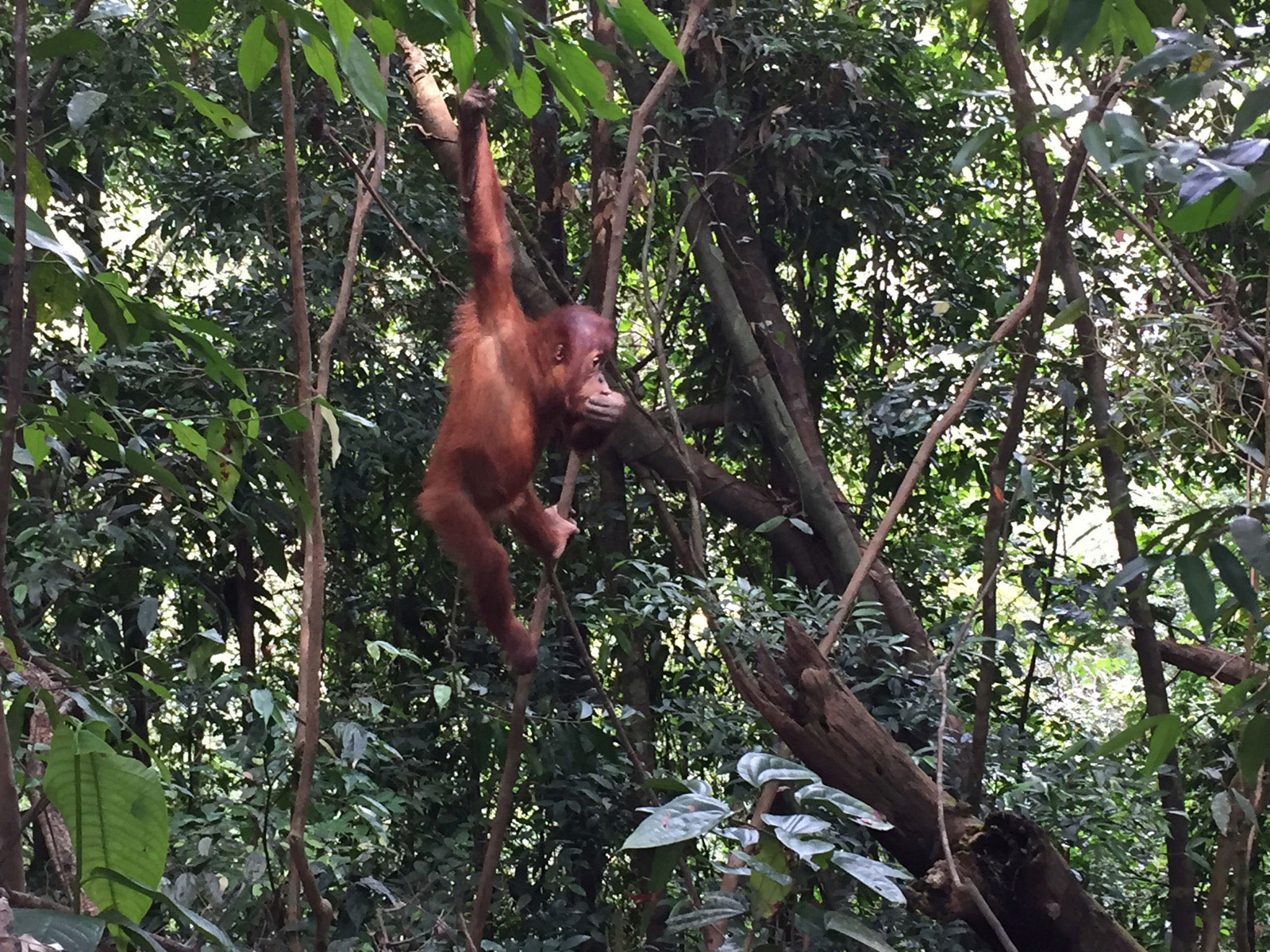 The jungle
The Gunung Leuser Nationalpark is a fragile, but very diverse ecosystem. It is threatend by deforestation, palm oil plantations and illegal logging. Read more about the problem of palm oil. And many of the wildlife is in danger as well. This rainforest is home to such rare mammals as the mighty Sumatran tiger, the rhinoceros, the elephant and the Malaysian honey bear which are threatened in the existence of their species. The continous destruction of the rainforests around Bukit Lawang has pushed the orangutans to the edge of extinction. Currently there are only app. 14,000 remaining orangutans in the wild making this species classified as endangered. The Sumatra Orangutan Society is one of the NGOs helping to protect the ecosystem.Making people aware of the crisis surrounding the orangutans and other wildlife of the Nationalpark is one of our goals. We also believe that responsible and ethical jungle trekking will help to save the rainforest by providing a high level of care and education to tourists. We are against unnatural and abusive practices and strive to improve animal welfare and to promote education.
On a trekking in the Gunung Leuser Nationalpark you may encounter, besides the orangutans, Thomas Leaf monkey, tucans, snakes, monitor lizards, gibbons, macaques, many insects, huge butterflies.
Guides
How to find a good trekking guide?
It is essential, that you do some research before chosing a guide. Treking is only possible with a guide. Unfortunately some of the guides are not licenced and feed the orangutans so that they come closer to tourists. These animals are 96% like us humans and so it is very dangerous to feed them. Infections and diseases can be easily transfered. Your guide should be licenced by the ITGA-HPI, the Indonesian Tourist Guides Association. That means they had to pass an exam, speak very good English and have been trained about the jungle. This training takes 2 years. If in doubt, let your guide show you their license card.
All our guides were born and raised in Bukit Lawang. They all share the love with nature, culture und wildlife of Sumatra. They are all professional tour guides with many years of experience in jungle trekking. You are in good hands if you choose a jungle trekking in Bukit Lawang with us. We want to protect the rainforest and its flora and fauna. The Gunung Leuser ecosystem is already in danger due to deforestation, poaching and palm oil plantations. In order to help save this beautiful jungle we only work with guides, that love and respect the jungle and don't feed or touch animals.
We always provide two guides for your jungle trekking experience. If you are traveling with young children we can also provide an additional guide to take extra care for the toddlers.
Jungle Trekking without a guide is not permitted.
Read our post on how to find a good trekking guide.
Prices
The prices for jungle trekking in Bukit Lawang are fixed. If someone offers you cheaper prices than the ones listed below, be suspicious. The fixed prices you pay make sure the guides are well trained, they get a good salary to help their families and take care of your safety while trekking. If in doubt let your guide show you his HPI licence card.
3 hours
35 Euros/person
1 day
55 Euros/person
2 days
90 Euros/person
3 days
120 Euros/person
All our prices include pickup from your accommodation, English speaking guide, entrance fees for the national park, fruit/meals, water/tea/coffee in the camp (if you stay overnight), sleeping equipment (for overnight stays), rafting, first aid if necessary and lots of laughs, learning and memories!
Here's a breakdown of the costs for 2 people for a 2 day trek:
Permit: 20 Euros
HPI fee: 4 Euros
Food: 16 Euros
Guide: 50 Euros
Assistant guide: 20 Euros
Cook/camp/rafting: 70 Euros
Here you see that there are many people involved and everybody gets a decent salary for Indonesian conditions. When you negotiate the price, you are not only agreeing to a bad payment, but you also reduce the quality and even safety of your experience. Everybody looses. So if a guide offers you a big discount, be cautious.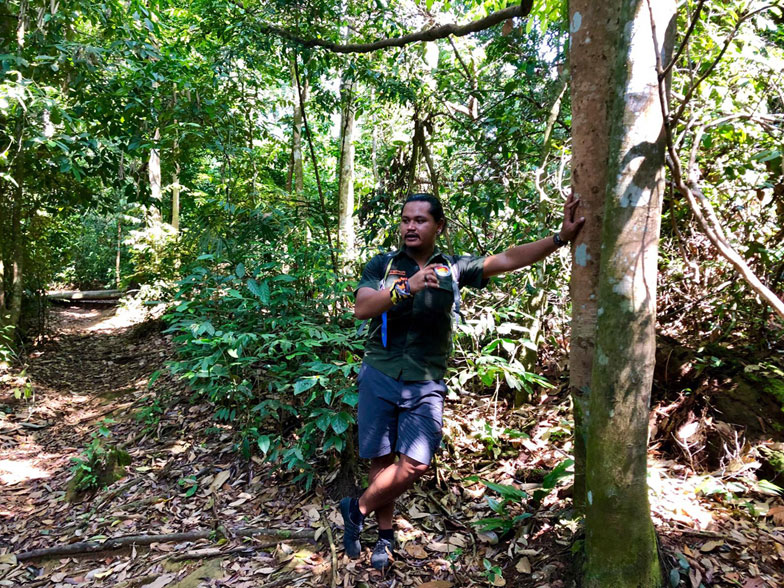 Trekking
On our jungle treks you will walk through an old rainforest. Experience this natural wonder up close, swing on a liana, soak up the sounds of the animals and the smell of the plants. And last but not least see wonderful orangutans and other wildlife. You can be sure that this will be an unforgettable experience. But we want to be honest. The trek is not a Sunday afternoon stroll throught the woods. You will walk over uneven ground, climb over roots and tree trunks and proceed along steep paths where you have to hold on to roots and lianas. The humidity and the occasional rain shower adds up to that. But you will be rewarded with great jungle vibes, seeing animals in the wild and the well deserved swim in the river afterwards.
There is no previous experience in trekking requiered. The jungle trekking in Bukit Lawang is suitable for all fitness levels and backgrounds. Christine has had many knee surgeries and did several treks in Bukit Lawang without issues. If you have any medical conditions or injuries or are pregnant, please tell us beforehand so that we can tell our guides and take precautions if needed.
The trekking tour will start at your accommodation in Bukit Lawang and our guides will also bring you back there.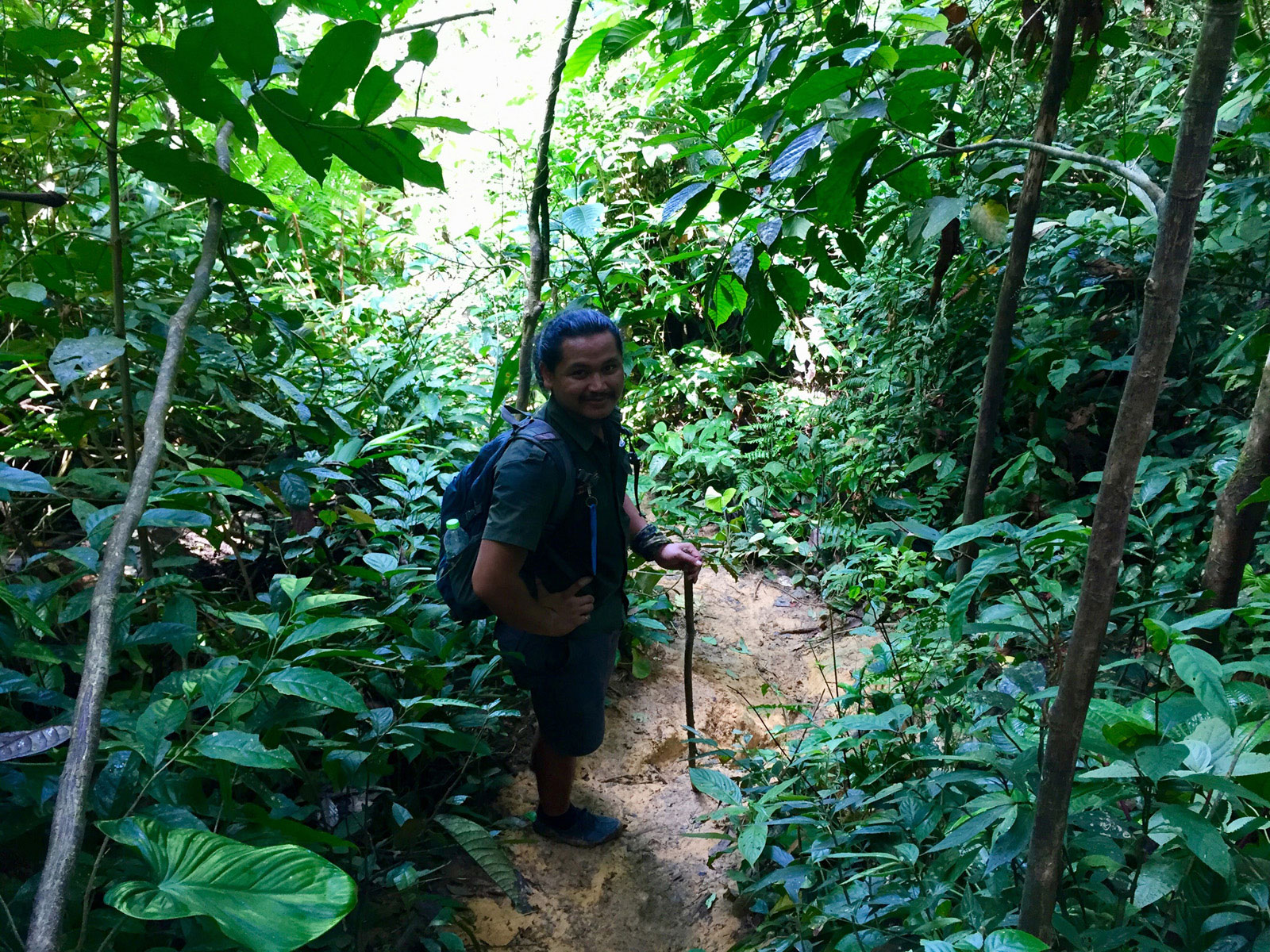 Itinerary
After breakfast, your guides will pick you up at 9 am from your accommodation and together you'll head to the jungle. You can leave your luggage in your accommodation. You will then trek for ca 6 – 8 hours (except 3 hour trek) including breaks, photo stops and lunch. You may spot orangutans as well as monitor lizards, gibbons, snakes, tucans, giant ants and other amazing insects. Your guides will tell you a lot about the jungle, its flora and fauna and how locals use some plants for traditional medicine.
After a while you will take a break and our guides will provide you with some delicious fruit before you continue your jungle adventure. You will hopefully see more animals and have breathtaking lookouts. If you chose the 3 hour trek you will start walking back to the village. If you choose one of the other treks there will be another break for a local lunch (mostly fried noodles or rice).
Late afternoon you will arrive by the river. For the 1 day trek you will go back to Bukit Lawang by rafting. For the multi day treks you will stay at the campsite by the river. Feel free to jump in the river or just relax. Our cook will provide a delicious Indonesian dinner for you and after that you will sit together by candle light, listen to the sounds of the jungle, play cards or talk. You then go to sleep in the half open shelter surrounded by the sounds of the river and the jungle.
For the 2 days trek you will either continue trekking in the second day or visit a nearby waterfall (depending on the campsite). You will go back by rafting around midday/early afternoon. For the 3 day trek you will continue trekking for 6 hours and arrive at the next campsite.
Families
If you are traveling with children we will always find a path in the jungle to accomodate all fitness levels. For children we recommend a minimum age of 5 and they should be strong walkers. However, if you have younger children or are not sure we can always provide an additional guide (making it three guides in total). He will take extra care of you and your toddlers and can return with you in any case. A carrier for toddlers can be handy.
Camp
If you opt for the popular multi day trekking with overnight stay in the jungle, you will sleep in a half-open shelter by the river. The accommodation is very basic. We will provide a mattress, blankets, pillows and a moskito net, so that you don't have to bring anything for your overnight stay.
Your guides are sleeping right next door. If something's wrong, just tell it and they'll come right away. The "toilets" are squatting toilets behind the shelters a little bit in the forest. And yes that's a bit creepy in the dark (don't forget your headlamp!). But in case of doubt you can go in pairs or ask your guide for help. At night you can do the small business close to the shelter, nobody can see you in the pitch black of jungle nights anyway.
Food
Nobody needs to starve on our jungle experiences. Depending on what trek you choose, food is always included. On a 3 hour trek you will get some delicious local fruits. On a 1 day trek we will provide fruit and a vegetarian lunch. On a 2 day trek there will be fruit and lunch during the trek as well as a delicious dinner in the camp and breakfast in the morning. The 3 day trek has the same food servings like the 2 day trek just with one more day added.
Please bring water before the start of your trek. If you stay overnight our cook will provide you with more water. There is also tea and coffee in the camp site.
If you follow certains diets, are vegetarian/vegan or have allergies please let us know in advance and we will try to accomodate your wishes.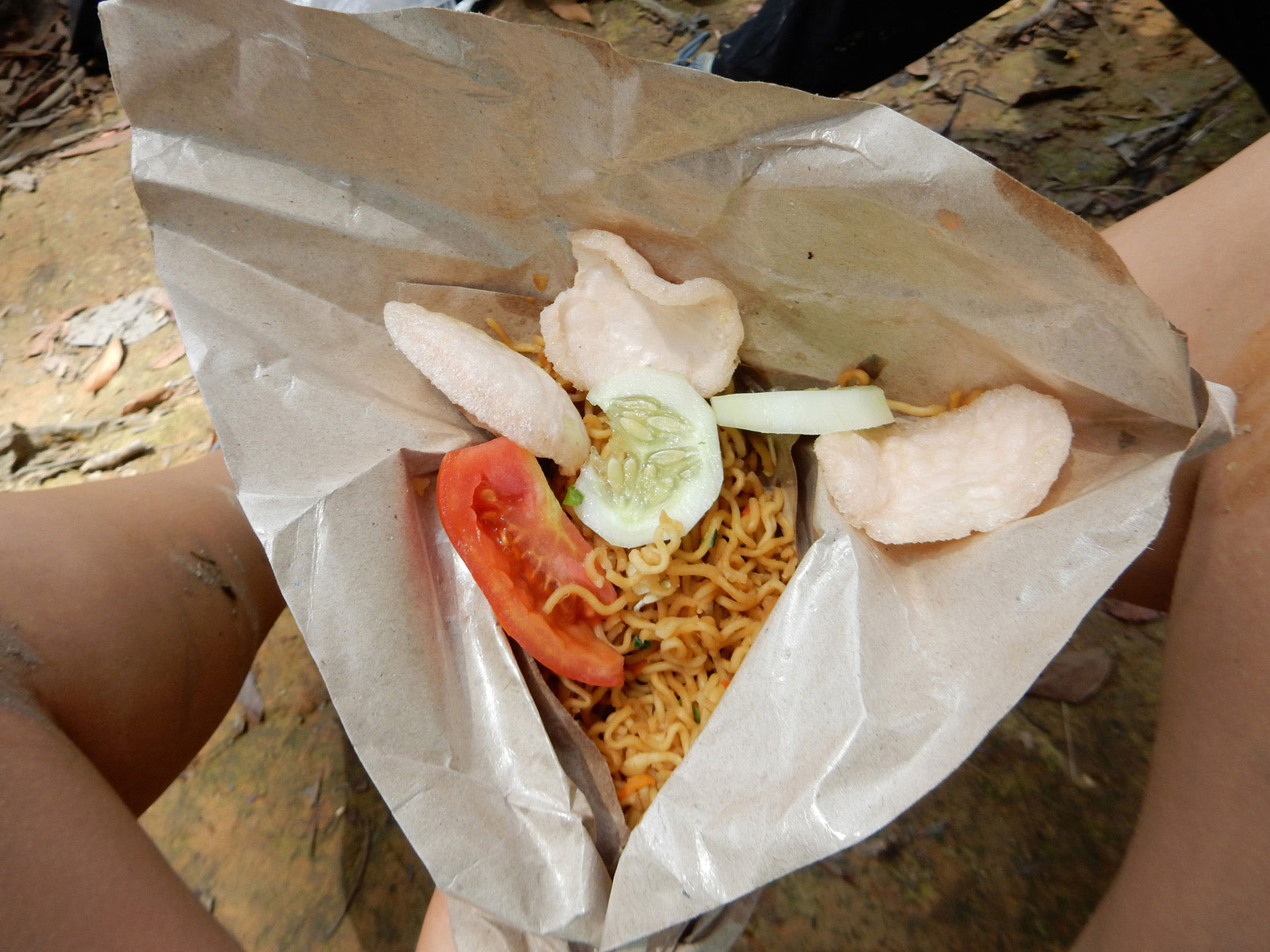 What to bring
Jungle trekking can cause some unplanned situations – from weather changes, to exhaustion or health issues. Therefore it is better to be prepared for everything. Here is a packing list for jungle trekking in Sumatra. Try to make your luggage as light as possible.
Small backpack, change of clothes, raincoat, swimwear, towel, toilet paper, personal hygiene products, medicine, camera, waterproof bag (if available), moskito repellent, sunblock, torch, sandals/flip flops (to walk around the camp).
Hygiene products: We recommend bringing natural soap and shampoo with you. Most common products contain micro plastic. With the use of natural product you can help keep microplastics out of the fragile ecosystem.
Clothes: Nights can be chilly in the jungle, so we recommend bringing long sleeve shirts and trousers/leggins. Wearing something comfortable is most important. No need to wear long clothes during the trek as there are few moskitos and leeches.
Shoes: No dedicated hiking boots needed, but you may use them of course. Trainers with a good grip are also possible.
You can leave your luggage in your accommodation.
Health and insurance
We are prepared for minor sicknesses and injuries (stomach pain, rashes, scratches, bee stings…). The next doctor is around 5 km outside of Bukit Lawang and can handle fevers and infections. For severe sicknesses or injuries you will need to go to the hospital in Medan. We highly recommend a travel health insurance which covers hospital fees. Discover Sumatra doesn't provide any helath insurance.
Do's and Don'ts in the jungle
1. Listen to your guides
Our guides are well trained and now the jungle from the back of their hand. They take care of everyone's safety so it is important to listen to them while in the jungle.
2. No feeding or touching of wildlife
We know it is tempting to touch or feed animals while jungle trekking. But for your and their welfare we are against that. Listen to your guide on what to do when you encounter any wildlife. Especially orangutans share 96% DNA with us, so any disease can be easily transferred and even kill them.
3. Be quiet and keep distance
You visit the natural habitat of a lot of species. Respect their environment and be quiet. Also don't get close to any wildlife. We recommend 5-10 meters distance. Orang utans are very strong; they can easily break your bones. That's why we ask you to always keep distance. This is not a zoo, wild animals are not predictable. The semi-wild orangutans from the former feeding center are used to humans. And sometimes they want to touch you. If that happens, stay calm and follow the instructions of your guides.
4. Keep clean
Leave nothing but footprints and take all your rubbish with you. Our guides will provide rubbish bags. Also if you see leftovers from others. Just pick it up. This also applies for fruit peels. The human germs on them can infect the wildlife as well.
5. Be respectfull
The Gunung Leuser National Park is a fragile ecosystem. Please don't destroy or break plants, harm animals or take fruit.
6. Just enjoy
Our guides take care of everything and make sure you are having a great time. We kindly ask you to respect the above mentioned jungle rules and you will have a once in a lifetime experience.
The different treks
3 hour trek
Our 3 hour trek gives you a brief overview of the jungle at Gunung Leuser Nationalpark including English speaking guide, fruit, entrance permit to the National Park.
1 day trek
Spend a day in the jungle. The trek includes 6-7 hours of trekking, meals (lunch, fruit) and rafting back to Bukit Lawang. Here you have a higher chance on seeing orang utans.
2 day trek
Our popular 2 Days/1 Night trek is ideal if you want to spend a night in the jungle. The trek includes English speaking guide, meals, entrance permit, all equipment, rafting.
3 day trek
Go deeper into the jungle, increasing your chances of spoting orang utans and other wildlife. Camp next to the river, fall asleep to the jungle sounds and swim in waterfalls.