The majority of Sumatra's population is of Muslim faith, except around Lake Toba and around Padang. In 2023, Lent begins 23 March and continues until 21 April. Ramadan is the Muslim month of fasting. Here believing Muslims fast from sunrise to sunset, which is considered one of the duties of a Muslim described in the Koran. In addition to abstaining from eating, one should purify one's thoughts and think more about one's faith.
What does it mean to travel Sumatra during Ramadan?
Traveling in Sumatra during Ramadan is definitely different than during other months of the year. But this time offers an exciting insight into the culture and religion of Sumatra. The following tips will make your vacation on the largest island in Indonesia an unforgettable trip during Ramadan.
During Ramadan's fasting month, public life on Sumatra is slower. In view of the often high temperatures, it is only understandable that employees face difficulties without drink and food during this time. Travelers therefore need to show patience and understanding. Allow yourself to be seduced by the friendly and helpful Indonesians.
As a traveler, it can be respectful if you do not eat or drink in public during the day. In particularly religious areas, you should also keep your shoulders and legs covered – actually also all year round. Especially during Ramadan, do not take photos of people doing their ablutions or prayer.
Small tip: Make sure your accommodation is not next to a mosque. Several times a day the muezin calles here loudly to prayer. This counts also outside of Ramadan. Therefore, it is best to pack earplugs and just not complain. The latter is considered extremely impolite.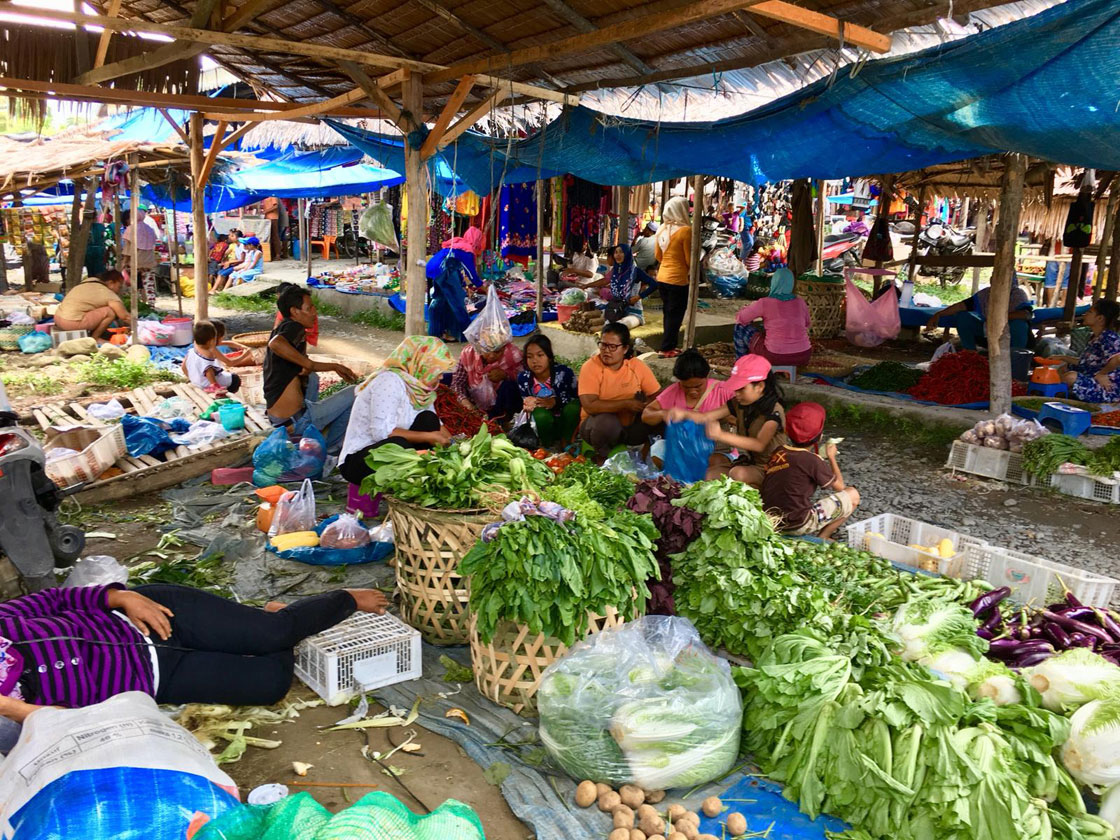 What you need to consider with transport
In cities you should avoid traffic between 4 and 6 pm. This is the main prayer time and the locals are allowed to go home early before breaking the fast. The traffic at that time is mostly unpredictable. If your flight falls during this time, it is advisable to arrive in the morning and stay close to the airport.
The end of Ramadan on Sumatra is celebrated with the feast of Idul Fitri. This is a special holiday. There are usually large parades, accompanied by music and fireworks – an awesome spectacle! Many locals visit their families for Idul Fitri. If you want to continue traveling during this time, book your flight tickets as early as possible. Especially domestic flights can be very expensive here. Even buses on Sumatra can be very crowded, not to mention traffic jams in the larger cities. If you need to move from one place to another, plan on spending more time. Tip: Private driver on Sumatra. If you choose a private driver, offer him regular breaks and see that your journey ends before breaking the fast. If this is not feasible, give him time to give Magrib prayer.
Ramadan on Sumatra: Do restaurants close?
Some restaurants and warungs, including shops, are closed during the day. After the sunset (the so called "Buka Puasa"), however the locals then go for breaking the fast: street stalls, warungs and restaurants then reopen. Although some restaurants are open, they have curtained the windows to keep the fasting Muslims out of the woods.
Cities and airports are often more relaxed. Even in hotels or larger tourist destinations such as Bukit Lawang, you can get food all day long.
After sunset and Maghrib prayer, Muslims traditionally break fasting with a date. After that, it is often feasted to your heart's content, whether at home or in the warung.
Supermarket chains such as Indomaret or Alfamart continue to open 24/7 and also sell drinks and food.
Generally speaking, show some caution and respect when traveling Sumatra during the month of Ramadan. Of course, that always depends on the region of Sumatra. For example, the Banda Aceh region in the north of the island is very strict. Eating and drinking before fasting should be avoided in these regions, although one enjoys a lot of freedom as a tourist.
With the right planning and a sense of respect you can experience a wonderful time on Sumatra during Ramadan.