On this 1 week route through Sumatra you will experience the highlights of Indonesia's biggest island. Go trekking in Gunung Leuser National Park to encounter orang utans in the wild, climb the Sibayak volcano in Berastagi and relax at the world's largest crater lake, Lake Toba. This 1 week route is a suggestion. Sumatra is huge and many people underestimate distances and travel time between destinations. Therefore we gathered this 1 week itinerary for Sumatra.
1 week route through Sumatra

Arrival in Medan, transfer to Bukit Lawang
Jungle Trekking in Bukit Lawang
Jungle Trekking in Bukit Lawang/other acitivities
Transfer to Berastagi
Climb Sibayak volcano, transfer to Lake Toba
Samosir (Lake Toba)
Transfer to Medan airport
Day 1: Transport to Bukit Lawang
Upon arrival at Kuala Namu International Airport in Medan, we recommend making your way straight to Bukit Lawang. Medan is aweful, noisy and the traffic is crazy. Therefore make sure to arrive until noon, so you have plenty of time. The transport to Bukit Lawang takes about 4 hours and takes you along rubber and palm oil plantations, lush jungles and mountain landscapes. You can get there by local or tourist bus as well as private driver.
Recommended accommodation
Budget: Waterstone
Comfort: Indra Valley Inn, Sam's Bungalow
Read also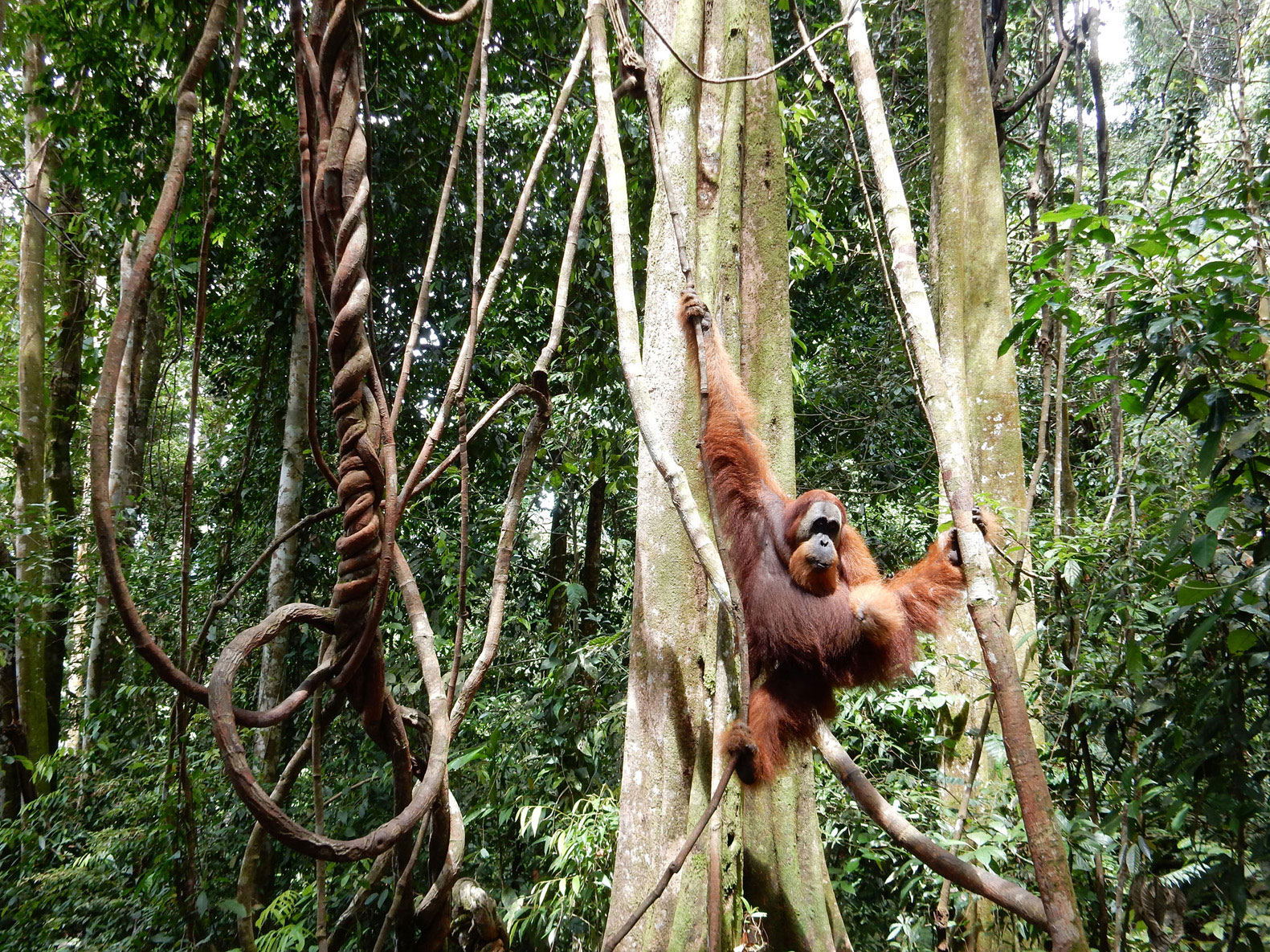 Day 2: Jungle Trekking
The second day of your 1 week route through Sumatra starts with a 2-day jungle trekking. With a little luck you can see orangutans in the wild. You can only go trekking with a guide. Makre sure your guide is licensed by the national park office and has experience in jungle trekking. There are usually two guides available for the trekking. You will be picked up from your accommodation at around 9 a.m. and then walk into the jungle together. The hike lasts about 6 hours including breaks for photos and food.
In the afternoon you reach the camp near a river. You can jump into the water or just relax. The cook will prepare an Indonesian dinner for you (vegetarian options possible). You will sleep in a semi-open shelter surrounded by the sounds of the river and jungle.
We recommend researching for guides and companies before your arrive in Bukit Lawang, because on site it seems everybody is a guide.
Alternative: If you don't want to spend the night in the jungle, you can also do a 1-day trek and do other activities in Bukit Lawang the next day.
Read also
Day 3: Jungle Trekking
After waking up, the cook will provide you with coffee, tea and breakfast. You can jump back into the fresh water of the river. Depending on the campsite you will then continue the jungle adventure and trek for about 2 hours or you will go to a waterfall where you can swim and relax. After lunch you will leave the camp for the traditional jungle raft.
Alternative: If you opted for a 1-day trek you can visit the bat cave in Bukit Lawang, go for a swim with a local or visit the elephant park in Tangkahan.
Read also
Day 4: Transfer to Berastagi
Today you will make your way to Berastagi. You can go there by local or tourist bus or private driver. The journey to Berastagi takes about 5 hours, depending on the traffic. After arrival you can visit a local market or relax.
Recommended accommodation
Budget: Smiley's Guesthouse, Sapo Karo
Comfort: Rudang Hotel Berastagi
Read also
Day 5: Volcano hike and transfer to Lake Toba
Today you can climb the volcano Sibayak, visit the Hot Springs or the traditional village Lingga. If you want to go by local or tourist bus, we recommend going for the sunrise hike. That give you sufficiant time to make your way to Lake Toba. If you have a private driver, you can also go in the morning after breakfast and continue your journey after the climb in the afternoon. Lake Toba is the largest crater lake in the world. The trip takes about 3 hours. You drive to the harbour, from where you take the ferry to Tuktuk to the island of Samosir. The crossing takes about 30 minutes.
Recommended accommodation
Budget: Romlan's
Comfort: Lekjon Cottage, Tabo Cottage
Day 6: Lake Toba
Go and explore the island of Samosir and Lake Toba today, either with a scooter or your private driver. Visit  Ambarita, Samosir's most interesting village of the local Batak culture, Simanindo, where you can see the performance of a traditional Batak dance, as well as beautiful lookouts from where you can see Samosir Island and Lake Toba.
Day 7: Transfer to Medan
Your 1 week rout through Sumatra comes to an end today. You can make your way back to Medan Airport by local or tourist bus or private driver. The journey takes about 6 hours.
Don't want to travel idependently? Check our tailor made round trips!
Trips  include accommodation, transport and activities.