Bukit Lawang is a small village on the edge of Gunung Leuser Nationalpark in North Sumatra. It is a popular place for travellers who want to go jungle trekking to encounter orang utans in the wild.
The border between village and jungle is not clear – monkeys will hang out on your balcony and the sound of the cicadas are omnipresent. Bukit Lawang is a peaceful and relaxed place. Hot and sunny during the day, with heavy rainshowers in the evenings.
The rainforest around Bukit Lawang belongs to Gunung Leuser National Park, one of the most bio diverse ecosystems in the world. Most people come here to see orangutans in the wild, but the nationalpark is also home to baboons, tigers, macaque, elephants, Thomas leaf monkeys and many more.
Here are some (fun) facts to know before heading to Bukit Lawang.
1. Matti lampu aka electricity fallout
When you visit Bukit Lawang, never take functioning electricity or wifi for granted. Two things are certain in Bukit Lawang: The daily rain shower (see 2) and an electricity fallout. The later usually comes when not needed. So if you do freelance work, like Christine, make sure to never let your laptop or phone battery run low. Put it on charge at 50% already – just in case.
Let your family and friends know that if you don't answer right away, it's probably due to the matti lampu. It is advisable to bring a power bank and extra batteries for your camera.
While people in Western countries usually freak out when there is no electricity at home, life in Bukit Lawang goes on. People just talk with each other, play guitar or cards. Just chill out and wait.
2. Heavy rain once a day
Bukit Lawang can be visited all year round. The weather is usually nice, sunny and hot. However, usually in the evening pretty precisely between 4-6pm it starts raining. And when it rains, it pours. Thankfully it is still warm, but you should make your way somewhere inside during the showers. Otherwise you'll be soaking wet. But these rain showers are usually not longer than 30 minutes. And afterwards it seems as it never rained at all.
The narrow streets in Bukit Lawang immediately become streams, with water rushing down. The Bohorok river also rises during the showers every now and then. Simply search for shelter in one of the restaurants and get a Bintang or try some of the delicious local dishes.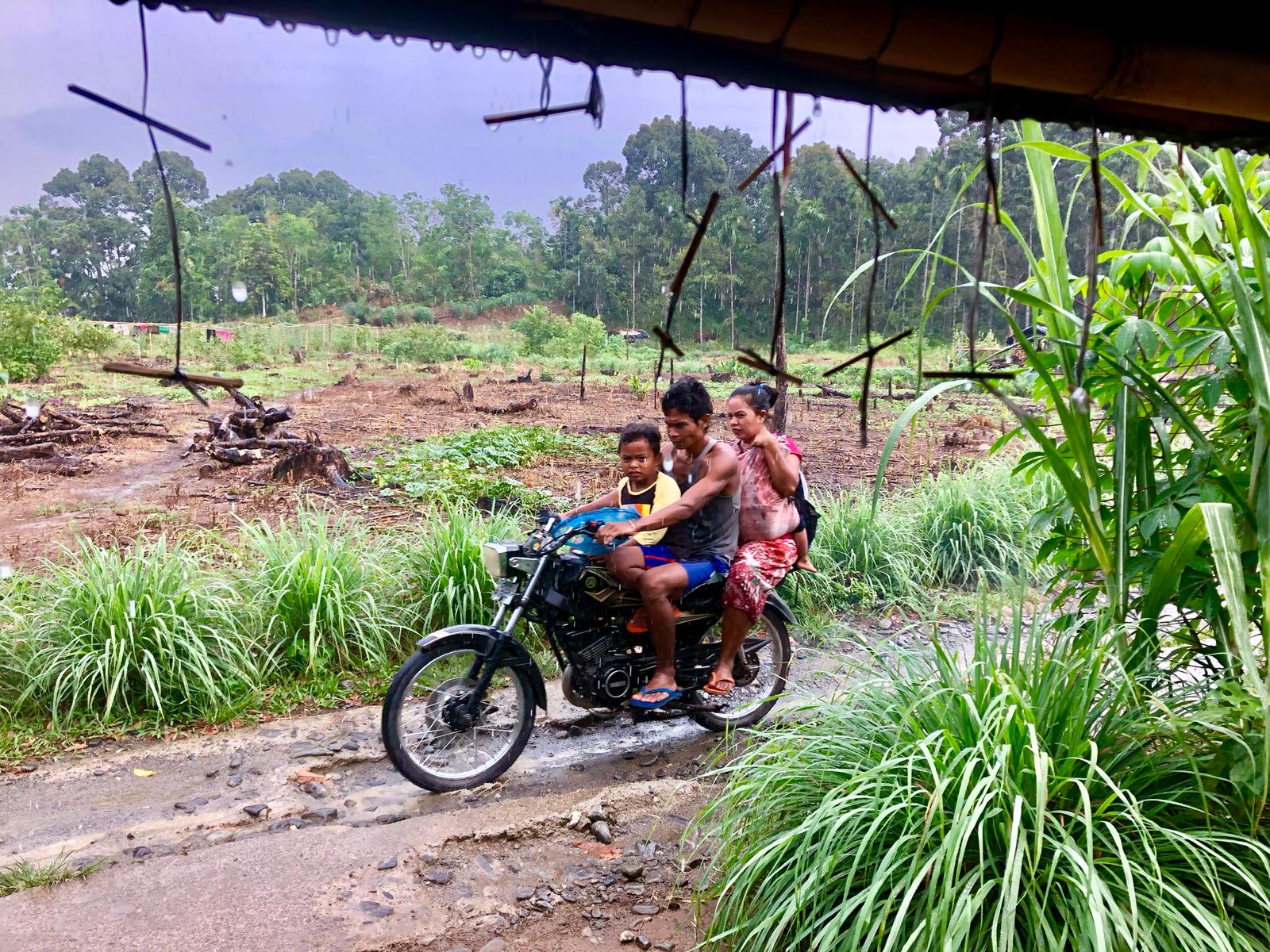 3. The bridges are an adventure itself
When you first see the bridges in Bukit Lawang, you probably think "I will never ever cross these." But we can prepare you: You will need to, if you want to go jungle trekking or if your accommodation is on the other side. It is true, they look as if they crash any minute. But don't let these stop you from getting to know Bukit Lawang from both sides. The bridges don't look, but are fine. And they are maintained regularly. The big bridge has just been equipped with metall in 2019.
4. Unusual toilet situations
Your first visit to a bathroom in Sumatra will be probably surprising. You might panic in search of a handle to flush the toilet. Let us put this straight: There is none!
Most bathrooms in Sumatra come with a squatting toilet and a bucket or basin with water. In order to flush the toilet use the plastic scoop to pour water from the water basin or bucket into the toilet bowl. Wether big or small business, you might need to do this several times.
Also toilet paper is not very common. Therefore it is advisable to carry toilet paper or tissues in your bag in case you need it. Or use the bum gun if applicable. If you never used a squatting toilet before, here is a guide on how to use it.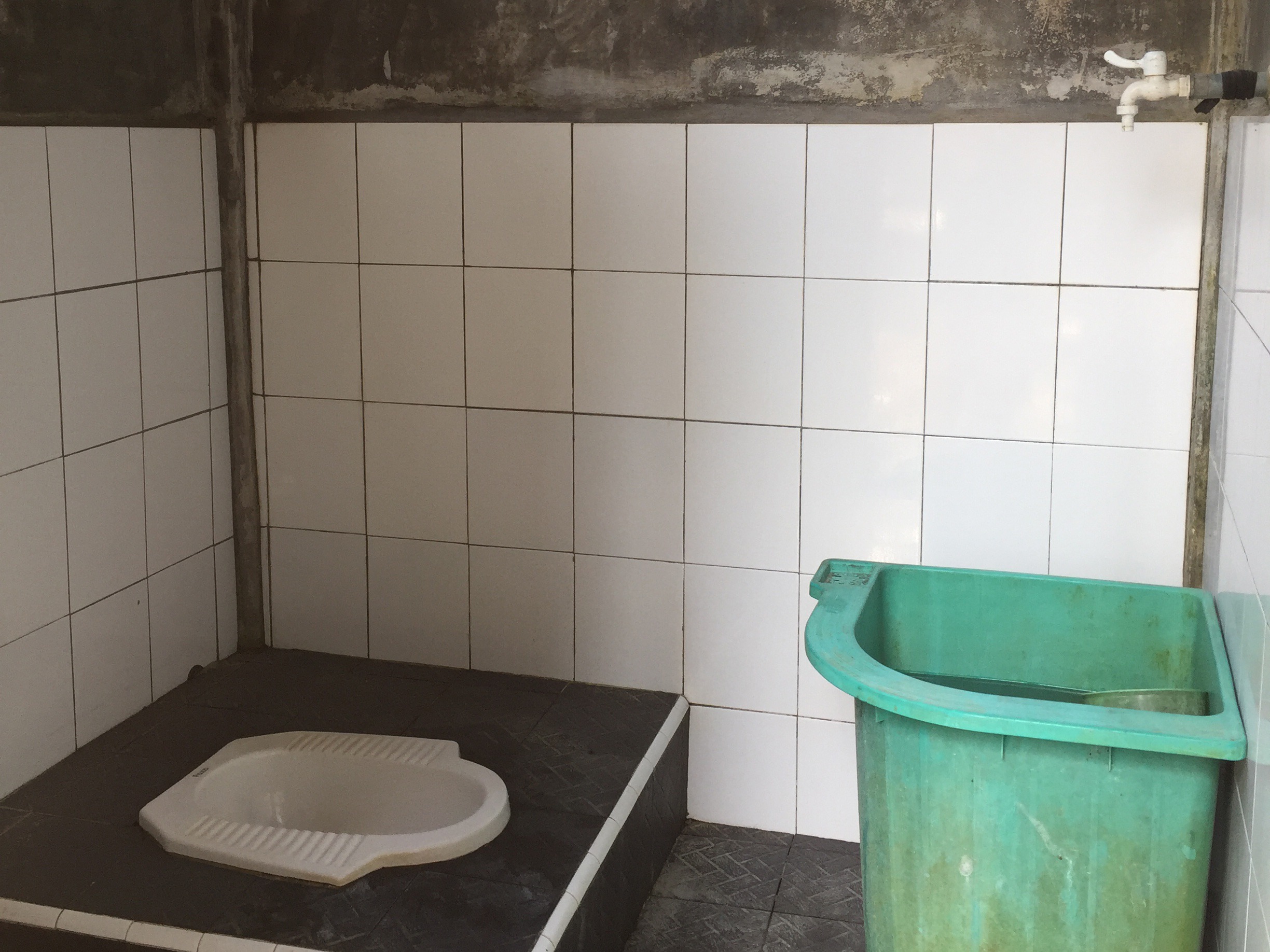 5. There is no ATM
Before you come to Bukit Lawang, make sure to withdraw money at the airport or on the way to the village. The next ATM is in Bohorok, about 10 kilometres away. We can arrange a transport for you. Sure if you need to pay accommodation and activities, you probably need to take a lot of cash. Either keep it in different locations in your room and bags, or if you book with us you can also pay via bank transfer or Paypal in advance. Few guesthouses take credit card. Better ask in advance.
6. Dress appropiately
Sumatra is mainly Muslim. Sure tourists can wear what they want (especially in tourist areas), but it's always more nice to show some respect and leave the hotpants and crop-free shirts in the backpack. It is always a good advice to see what the locals are wearing. If no one wears shorts or tank tops you shouldn't either. Not only out of respect, but also to avoid people staring at you. Christine's rule of thumb is either sleeveless shirt and long pants, or a shoulder-covering/long-sleeved shirt with shorts.
Side note for swimming: Most women in Sumatra go swimming with their normal clothes on, incl. their hijab. Bikinis or swim suits are uncommon. So it is advisable and respectfull to dress accordingly and bring some clothes (T-Shirt and Pants) with you with which you can go swimming. This only applies for ladies. Men can use swimming shorts.
7. Say hello
The people in Bukit Lawang (and Sumatra in general) are super friendly. It is very common that strangers on the street or in a warung ask you for your name, where you are from, where you are going or where you stay. They are just super curious and want to make sure you have a good time. Also if somebody says hello, just say hello in return. Same for smiles. Smiling opens so many doors and is the basic and most beautiful way of communication.
8. Monkeys on the balcony
Never leave any food on the balcony or in your room and always keep your windows closed. Otherwise it might get stolen by the cheeky macaque that hang around the village.
9. Relax
It seems many people on holiday are rushing from one place to another, always on the hunt for view points, waterfalls or other activities. Bukit Lawang has some great things to do, but the list of must-see attractions is not long. It is just a quiet and small village in the jungle. So after an exhausting jungle trek this is the perfect place to just unwind by the river, watch the local kids swim, observe the macaques on their food hunt or just relax in one of the guest houses with a good book and a fresh watermelon juice.
Bukit Lawang was the place, where I (Christine) fully learned to simply do nothing and feel good about it. On some travel days it is absolutely fine to do nothing at all. Everybody needs a little downtime every now and then and Bukit Lawang is the perfect place for that.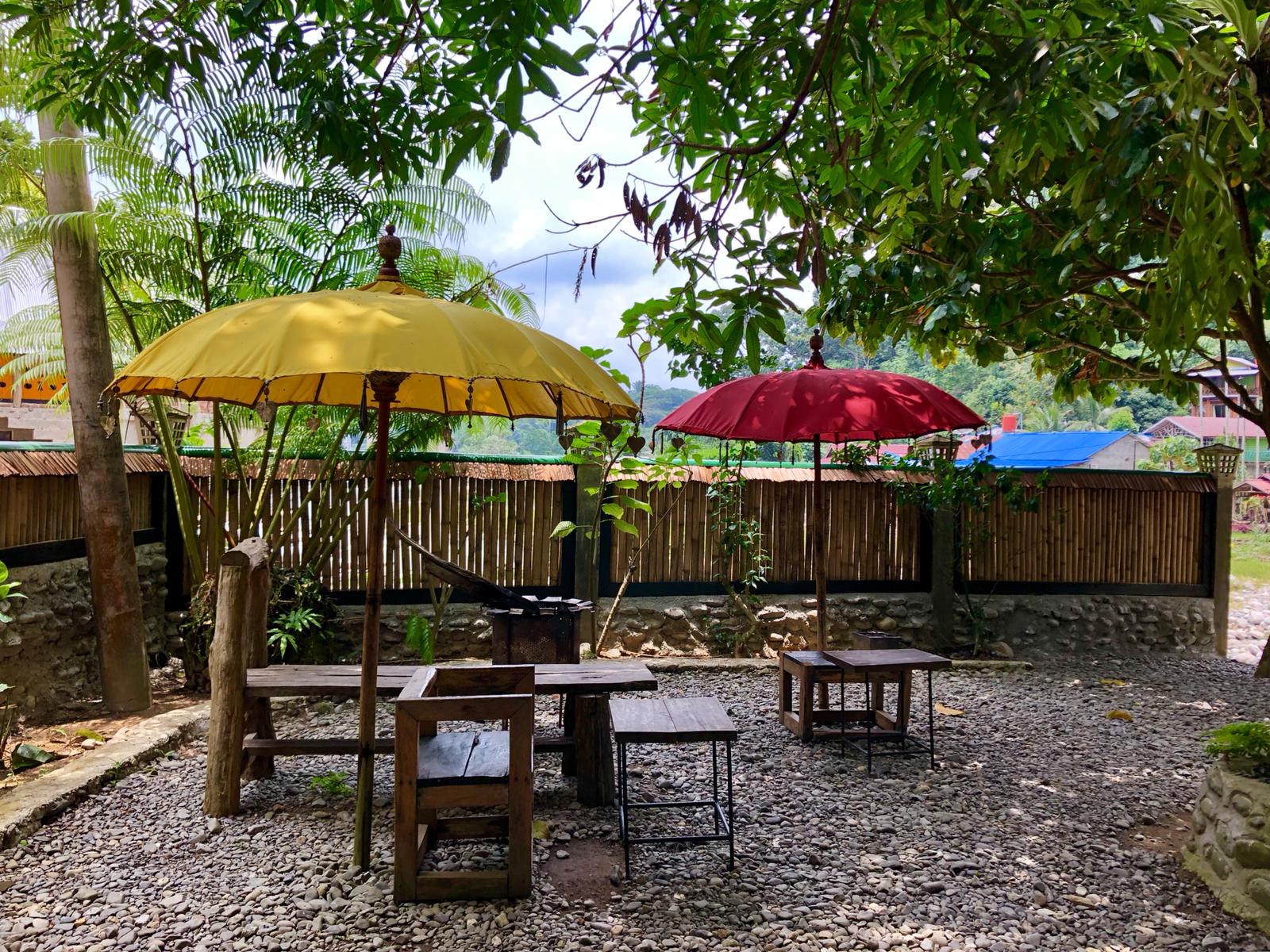 10. Choose your trekking guides wisely
Sure most people come to Bukit Lawang for an adventurous jungle trek to encounter orangutans in the wild. They are endangered and only native to Borneo and Sumatra. Treking is only possible with a guide. Unfortunately some of the guides are not licenced and feed the orangutans so that they come closer to tourists. These animals are 96% like us humans and so it is very dangerous to feed them. Infections and diseases can be easily transfered.
Therefore it is essential, that you do some research before chosing a guide. Your guide should be licenced by the ITGA-HPI, the Indonesian Tourist Guides Association. That means they had to pass an exam, speak very good English and have been trained about the jungle. This training takes 2 years. If in doubt, let your guide show you their license card.
All our guides were born and raised in Bukit Lawang. They all share the love with nature, culture und wildlife of Sumatra. They are all professional tour guides with many years of experience in jungle trekking. You are in good hands if you choose a jungle trekking in Bukit Lawang with us. In order to help save this beautiful jungle we only work with guides, that love and respect the jungle and don't feed or touch animals.