Hi, I am Christine and I am one part of Discover Sumatra. I have traveled Sumatra solo many times and with this post I will give my very personal tips for solo traveling in Sumatra. I feel you. Once you start researching about Indonesias biggest island you will find info on lush rainforest, orang utans or beautiful beaches. But you might also find posts from people who have been ripped off at a bus station in Medan, a lack of ATMs, crazy transport or locals who don't speak English. And I can tell you these stories are true.
But I can assure you, on your solo travel to Sumatra you will be rewarded with adventure, great food, friendly locals and a good time.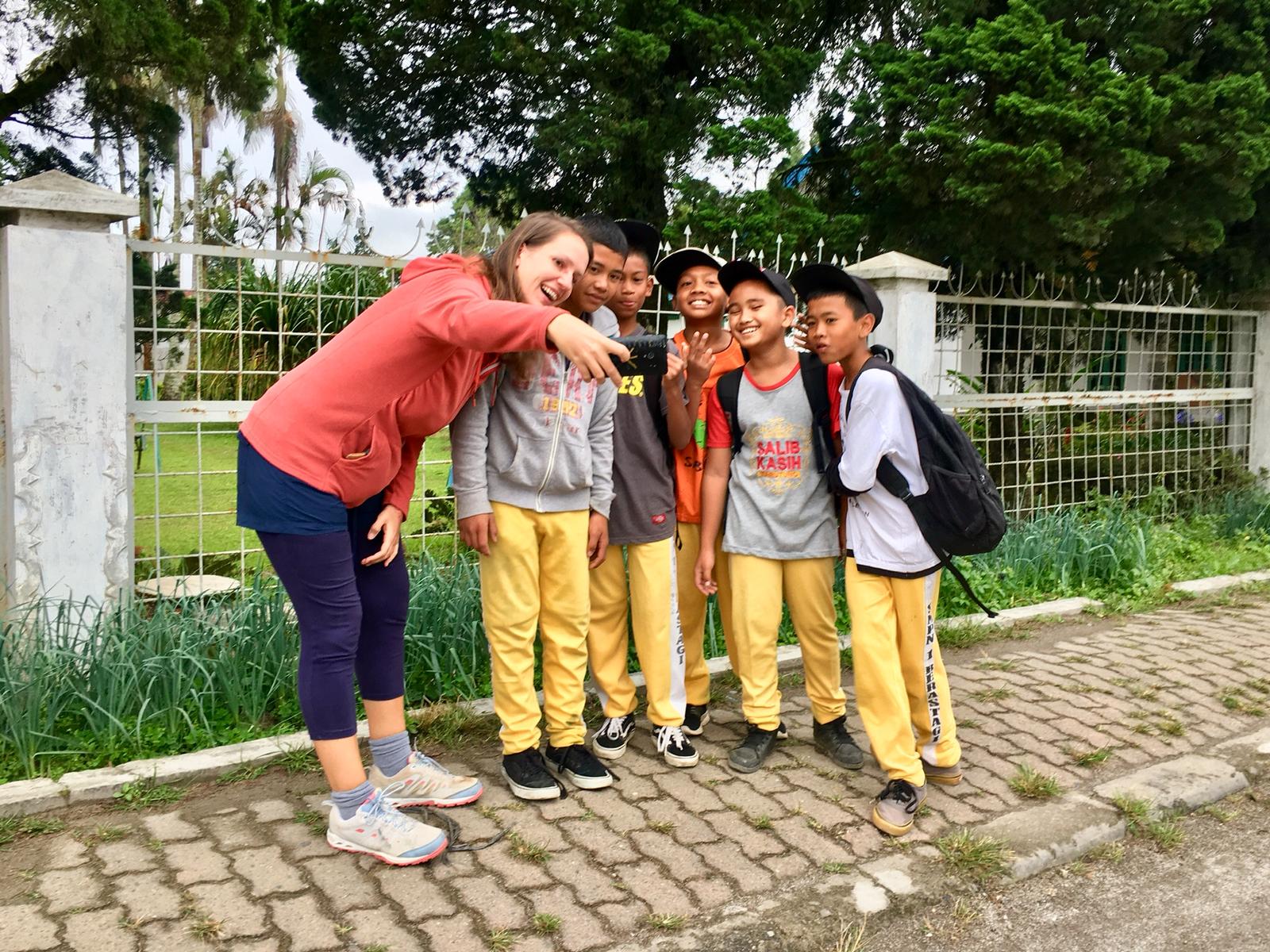 People
The poeple of Sumatra are super friendly and generous. These people are one of the reasons I fell in love with Sumatra. A little side story: When I first got to Bukit Lawang in 2017, I had a bad flu. And the people from my guesthouse gave me fruits and tea for free and always made sure I was doing ok. That is the kind of friendliness you can expect here, with some exeptions of couse (see safety further below).
It is also very common that strangers on the street or in a warung ask you for your name (mostly school children currently learning English), where you are from, where you are going or where you stay. This sounds super akward and suspicious. And in the first days, I always thought they want to rip me off or something (weird what media and society can do). But I can tell you Sumatrans are just super curious and want to make sure you know where you are going and you have a good time. Feel free to anwser their questions and staisfy their curiosity. Of course, if a strange guy asks you this or if you just don't feel comfortable answering, just make something up. But always be kind and polite. Don't be angry at them. This is regarded as very unpolite. Also if somebody says hello, just say hello in return. Same for smiles. Smiling opens so many doors and is the basic and most beautiful way of communication.
In addition to this, you can also be asked for a selfie every now and then. And no you are not a doppelganger of an Indonesian superstar (that's what I thought in the beginning). Many people from Sumatra just don't see white people very often, some have never seen any. At Medan airport one day a little boy was staring at me with his mouth open – be prepared for that, too 🙂
Transport
Medan airport will be probalby your entry port for your solo travel adventure in Sumatra. If you can, try to land morning to midday, so that you don't have to stay in Medan. It is aweful – sorry. But if you need to stay there, check my accommodation tips below.
Traveling on Sumatra itself can be difficult. The island is the biggest in Indonesia, the roads are bad and busy with motorbikes. Public transport is limited and an adventure in itself. Flying is the most convenient way to cover large distances on Sumatra.
Local mini busses are the cheapest way to get around, but this is not a comfortable way of travel. they have no air con and can get packed. 20 people in a 15 seater – no big deal. You will be sitting very close to others and high chance your are the only tourist. Many people don't speak English, but are always friendly and maybe want to take a photo with you.
When I traveled to Sumatra for the first time I was too scared to take the local bus – I just read too many crazy stories. Therefore I took the tourist bus. This is basically a shared car or van and connects the most tourist destinations. It is defintely a very convenient and still affordable (Medan to Bukit Lawang costs 150k IDR) way of traveling arond Sumatra – especially for solo travelers. Every accommodation can arrange this for you. If you arrive at Medan airport and want to travel straight onward, you can also check for a tourist bus there. Go outside of the airport building, turn right, go to the counter near the busses and tell the guys where you want to go.
Becaks and Grab (like Uber) are a good way to get around cities. Especially Grab is super for solo travelers as you can also hire a motorcycle driver. Since you can always see the reviews in the app, it is generally safe to use Grab. You should definitely take a becak (like a tuktuk) at one point of your solo travel in Sumatra – it is a fun way to get around. But always negotiate upfront for the price and make sure you have the exact money due or count the change. Little story from me: When I first arrived in Medan I took a becak and the driver gladly took 130k instead of 13k as I mixed up the bills. So not everybody is nice, but that is everywhere the case.
Renting a motorbike as you maybe did on Bali is not recommended on Sumatra. As I said, traffic is crazy and it can be very dangerous. If you want to venture out on a scooter, I can recommend doing so on Samosir island at Lake Toba. Traffic there is relatively ok.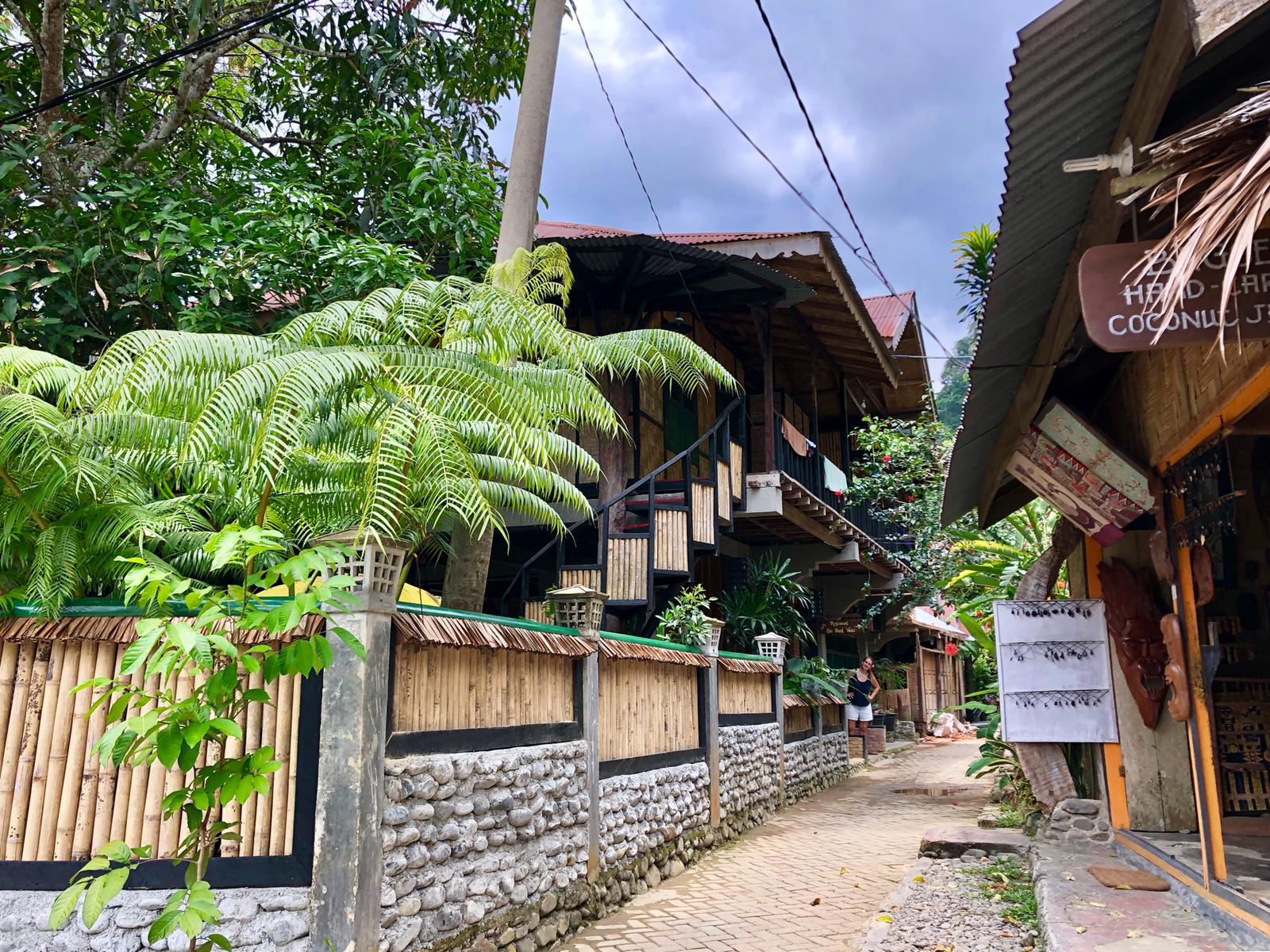 Accommodation
If you travel solo, you probably want to stay in hostels to meet fellow travelers. Bad news first: There are just a handful of hostels on Sumatra. But good news is: Single rooms can be the same price of a hostel bed in Thailand. Yay!
I have stayed in various guesthouses around Sumatra and some have a great hostely vibe with lot of solo travelers. Here is my list of great guesthouses for solo travel in Sumatra:
Medan
MM Capsule – probably one of the best hostels I have erver stayed in. Has capsule style beds and this biggest common area ever existed.
Permata Inn – Guesthouse with cheap single and double rooms with shared bathroom.
Bukit Lawang
Terimakasih Guesthouse – Cheap rooms, close to all the shops, has its own bar
Bukit Lawang Indah – Cheap rooms, great restaurant and vibe
Ida Guesthouse – Nice rooms, warung with great food
Waterstone – if you fancy privacy, this is for you. Just two rooms (100k/night for solo travelers), great views and lovely host.
Berastagi
Smiley Guesthouse – haven't stayed there so far, but heard good things.
Lake Toba
Romlan's Guesthouse – Various rooms available, situated directly by the lake, nice restaurant.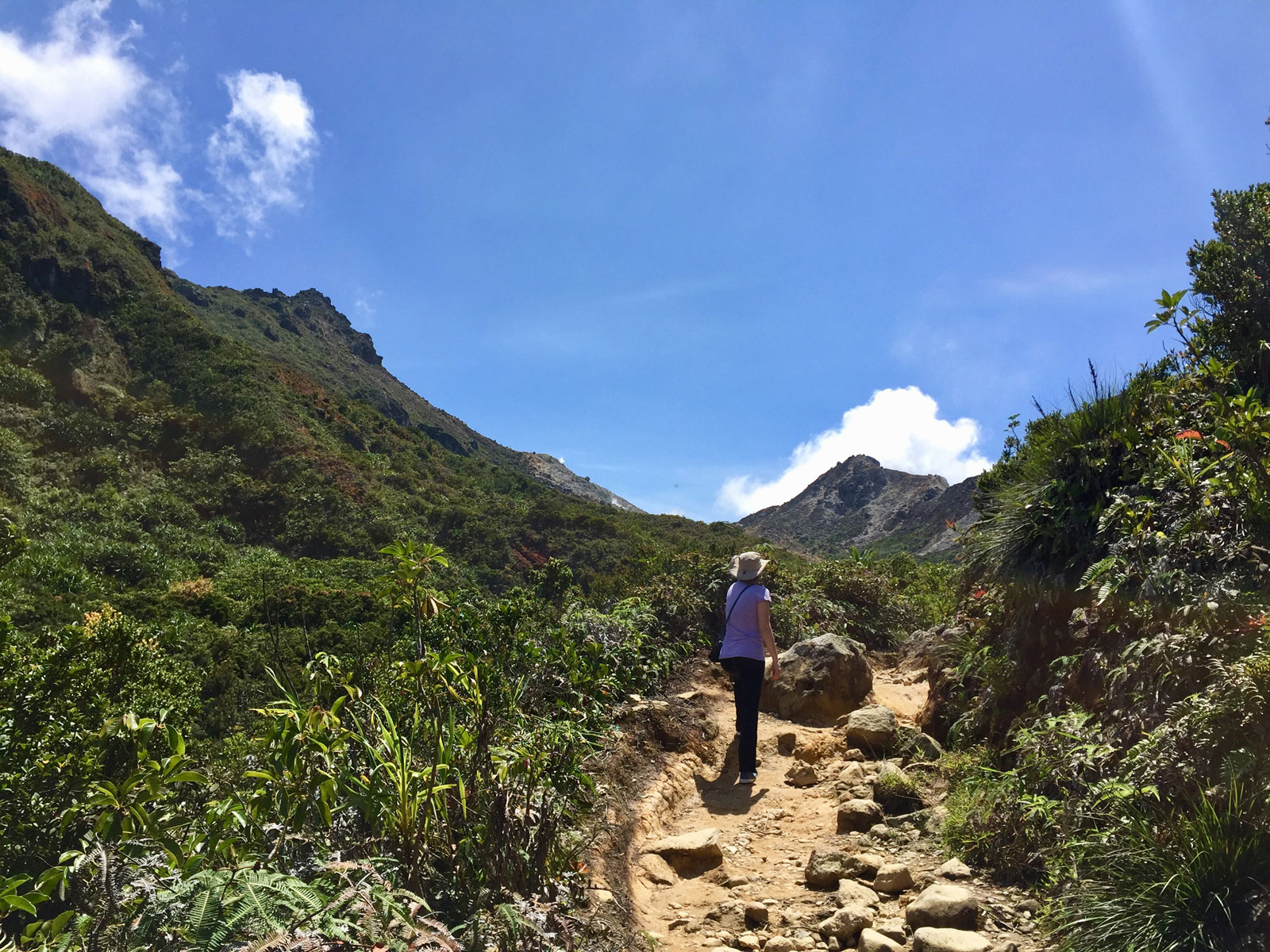 Safety
There is no destination without issues. So it is advisable to keep an open eye when solo traveling in Sumatra. Taking basic precautions will keep you safe and trust your instinct. If you have a bad feeling, try to get out of the situation you are currently in – that counts for every country you're solo traveling.
Sumatra is considered as safe for solo travelers. But as mum always said, don't use dark alleyways after sunset. And if you negotiate prices for becaks, clothing or accommodation, make agreements in advance and insist on them.
My tips for safety for solo travelers on Sumatra:
Avoid dark alleys at night
Take only as much cash as you really need. Leave the rest in your room.
Leave valuables in your room.
Join a group for hikes and treks.
Make a copy of your most important documents, keep them separate from the originals and maybe additionally in an online storage.
Language
As for every country it always help to learn bits and pieces of the language. On my first solo trip to Sumatra I picked up a few words instantly and locals are super happy when you try speaking Bahasa (which actually mean Language, but they use it as a word for Indonesian). It shows the locals that you are interested in with their culture and it can be handy in some situations.
Here are some phrases in Bahasa:
Hello – Halo
See you – Sampai jumpa
Thank you – Terima kasih
Yes – Ya
No – Tidak
You're welcome – sama sama
How are you? – Apa kabar?
Good – baik
What is you name? – Siapa nama kamu?
My name is… – Nama saya…
What to pack
Be prepared for all seasons in one day when solo traveling to Sumatra. The tropical days are humid and hot and I advise light, comfortable clothes. Light rain jackets are a must as there will be encounters with rain. Bring sun screen and hygiene products from home as they can be very expensive on Sumatra.
Sumatra is mostly Muslim. Female solo travellers should pack shirts that cover chest and shoulders, along with long skirts and pants. A sarong is my personal travel hack – it works as a long skirt, can cover shoulders when needed, can be used as a blanket or even bandana.
Sim cards and wifi
Although it seems every kiosk or warung offers free and good wifi, I would always recommend getting a local sim card. These are cheap (10 GB for ca. 5 EUR) and the coverage is usually very good. I recommend Telkomsel which worked everywhere I went so far incl. the jungles around Bukit Lawang. Besides staying connected to your loved ones back home, this also helps you navigating with Google Maps when needed, getting a Grab in Medan or call your accommodation.
Special tip for solo travelers: Send your location via Whatsapp or the like every now and then to your family or friends. I have a dedicated Whatsapp group with my family where I just post my location or guesthouse when I arrived in a new place.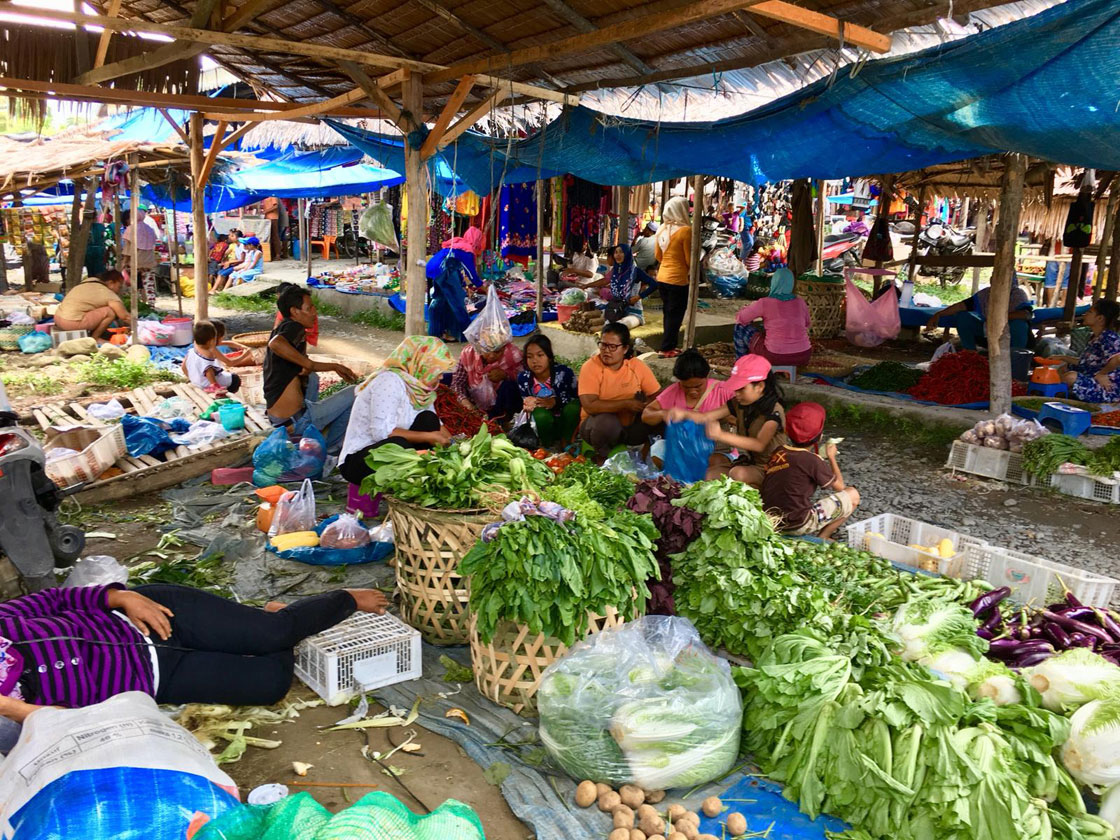 Do's and Don'ts
The people on Sumatra are super friendly and always in for a friendly chat. They will be extremely warm and respectful towards you. It is likely that you get invited for dinner. Here are some do's and don'ts:
Use your right hand to eat and shake hand. The left hand is considered dirty.
Never touch someone's head, not even a friendly padding on a child's head. This is highly impolite.
No kissing and touching in public. So if you found a holiday flirt, keep these things private.
You will notice shoes and flip flops on the front porch of someone's house, restaurants or shops. That's because Indonesians take off their shoes when entering a house. So if you see a bulk or shoes in front, follow along and take off yours.
Dress appropriately. Again you are in a Muslim country. The locals here dress rather conservatively and expect others to do the same.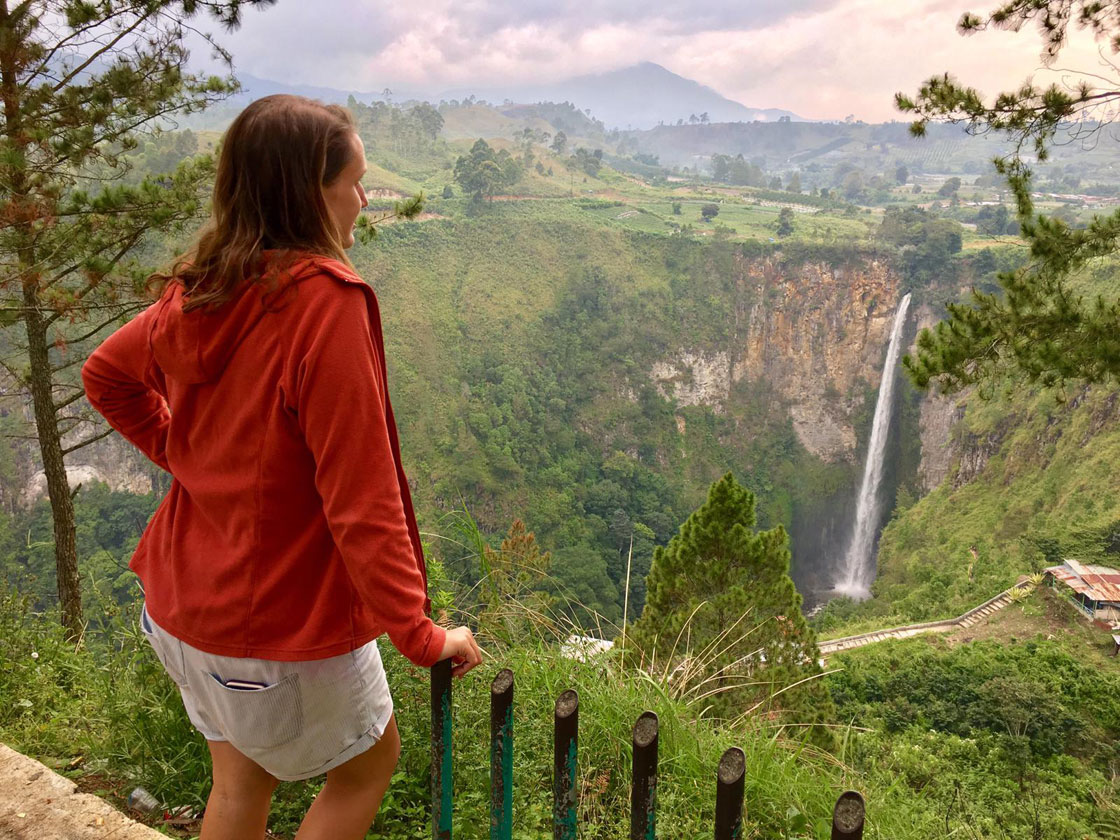 Activities for solo travelers on Sumatra
There are many activities for solo travelers on Sumatra. From diving or surfing, to hiking or relaxing on the beach. Plus there are many options, where you can join a group (e.g. for a jungle trekking in Bukit Lawang).
These activities in Bukit Lawang are perfect for solo travelers.
Tips for female solo travelers in Sumatra
Men can be a little intrusive towards woman traveling solo, but they can easily be wiped off with a friendly "tidak" (no). It is also very common that a stranger on the streets asks for your husband or boyfriend. In these cases, dear traveling ladies out there, I can just advise to drop a little white lie and say your husband is sick in the hotel or coming later. This just makes everything easier. Once I got asked by a guy at the airport to marry him, just because I said I don't have a husband. Wearing a fake wedding ring also helps.
Dress appropriately. You are in a Muslim country. Although it's 1000 degrees, your knees and shoulders should be covered. My rule of thumb is either sleeveless shirt and long pants, or a shoulder-covering/long-sleeved shirt with shorts. Also bikinis are not common, use shorts and a shirt if you go for a swim.
Do you have questions or more tips? Write it in the comments below.